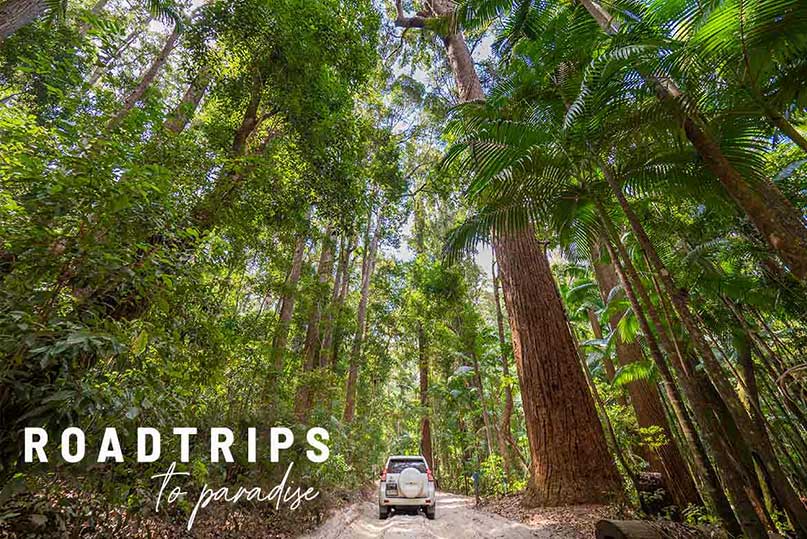 Where else in the world can you explore crystalline lakes, bask in the tranquil surrounds of sub-tropical rainforests and cruise along 123km of coastline, all in one breathtakingly diverse location??
As the saying goes, we always need to experience what's in our very own backyard, and our Sunshine State is home to a truly unique natural wonder - the world's largest sand island! So as travel restrictions start to ease, it's time to hit the road, and get back to nature!
Whether you're thinking ahead for the school holidays, planning a weekend getaway with your mates, or simply seeking a little local travel inspo, then look no further than Fraser Island.
Plan ahead: Our resort properties are re-opening from June 19th. for accommodation, island tours and ranger-guided activities - just in time for the Queensland school holidays! So let's start mapping that road trip to paradise! 
GETTING HERE

Just a short 3.5 hr drive from Brisbane, and sitting nicely within the 250 kilometre travel radius (as the crow flies), Fraser is the ideal island escape! Plus, with easy access from the southeast and surrounding Queensland regions, Fraser Island is the holiday destination of choice, meaning you'll be island-side (with a cocktail in-hand!) in no time. Sounds pretty perfect, right? Paradise is closer than you think!
Fraser Island Ferries are operating passenger and vehicle services daily from River Heads (Hervey Bay), crossing the Great Sandy Strait in approximately 45 minutes, with direct access to Kingfisher Bay Resort.
Or, if you're planning to head to the east coast, then check out our 4WD-based accommodation, Eurong Beach Resort, located right on 75 Mile Beach (To stay here, you will need your own 4WD vehicle).
Now you're en route to Fraser Island...here's some must-haves for your bucket list itinerary:
SURFSIDE SERENITY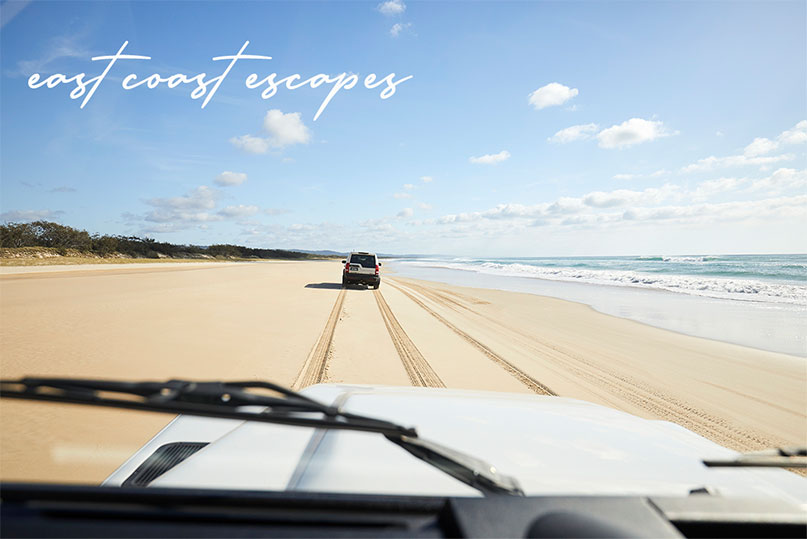 With wide open spaces and 75 miles of golden sandy coastline, the eastern beach is the perfect place to set out and find your own little secluded spot.
Cruise up the coast in a 4WD, let the windows down as the ocean breeze brushes across your face and breathe in that salty air - There's no better feeling that being in the great outdoors!
…and did you know, this iconic stretch of sand is classed as an official Australian gazetted highway? With speeds up to 80km/hr you can cover all of the east coast's top spots, starting from the ultimate beachfront base at Eurong Beach Resort, right up north to the Champagne Pools.
Plus, with over 1200km of inland sand tracks just waiting to be explored, it's a true 4WD'ers paradise. 
REST, RECHARGE AND REJUVENATE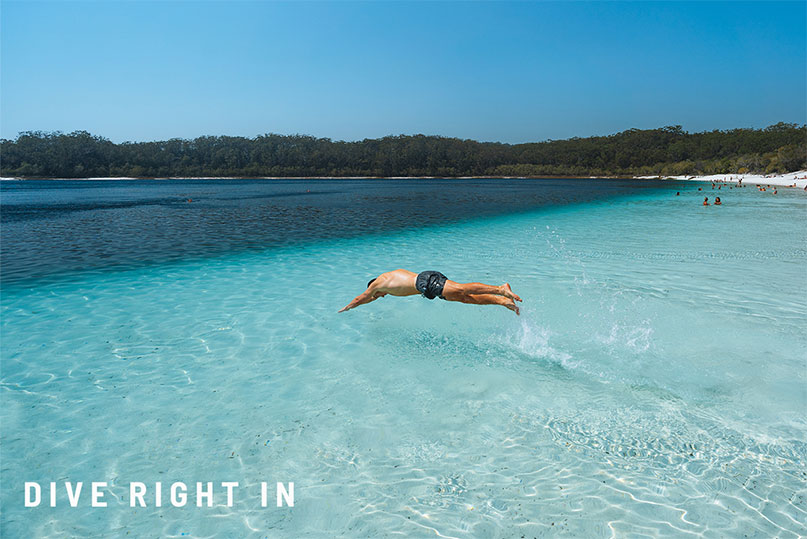 Nothing says relaxation, like immersing yourself in idyllic, crystal-clear depths…and with over 100 freshwater lakes on Fraser Island, you can take your pick!
One of our all-time favourites of course, Lake McKenzie, is encircled by pure white silica sand. Laze along the shore, dive in for refreshing dip and let your worries float away….
For the true adventure-seekers, you can take the self-guided trail, departing Kingfisher Bay Resort. Make sure you leave early in the AM to allow plenty of swimming time (It's a 6-hour return trek!), but some fresh air and a little walk on the wild side will do you the world of good.
THE WORLD ('S LARGEST SAND ISLAND) AT YOUR FINGERTIPS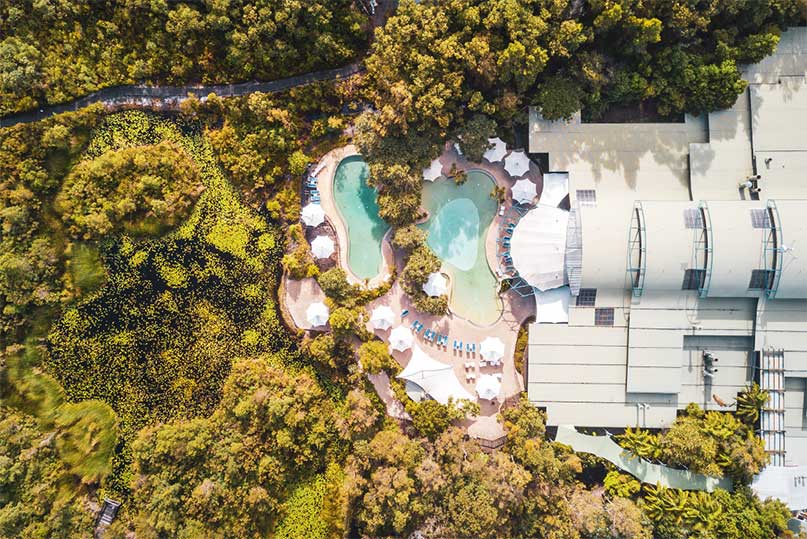 Your island home-away-from-home awaits!
Nestled in amongst nature, and located right along the island's western bay, Kingfisher Bay Resort is a hidden retreat. You'll feel a world away, with accommodation styles to suit all travellers, and a daily schedule of Ranger-guided eco activities. Not to mention, it's the perfect base to set out and explore the sights! You're spoilt for choice, naturally!
GET OFF THE GRID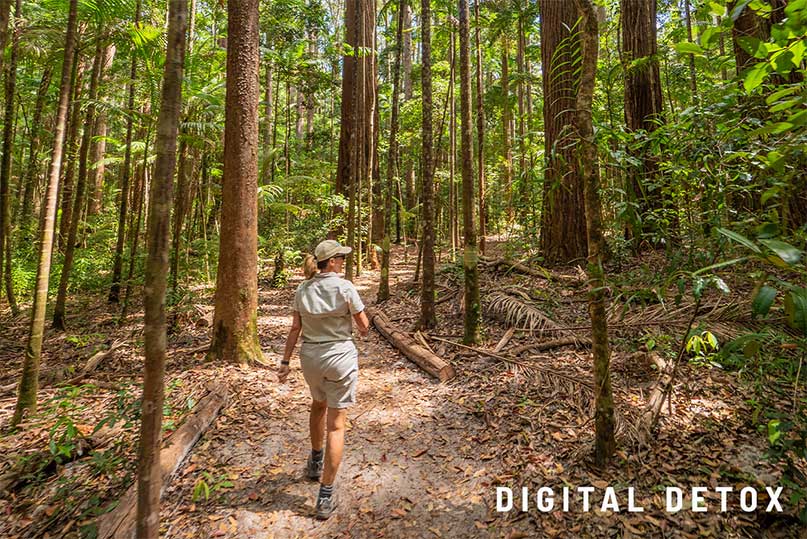 With over 184,000 hectares of natural beauty awaiting, it's time to get outside and explore. Adventures are for this moment NOW!
As one of just two places where rainforests grow in the sand, you'll be in absolute awe as you wander through these centuries-old, towering trees.
Getting back to nature is good for the soul, and an afternoon surrounded by lush greenery and the calming, tranquil sounds of Pile Valley will guarantee exactly that. Located in the heart of Fraser, it's a short drive inland from either resort. It doesn't get much better than that!
If you don't have your own 4WD or you're not quite so savvy on the sand tracks, why not leave it to the pro's at Fraser Explorer Tours - with guided 4WD tours departing the resort daily, they'll ensure you have the ultimate Fraser Island experience in air-conditioned comfort 
STAY HYDRATED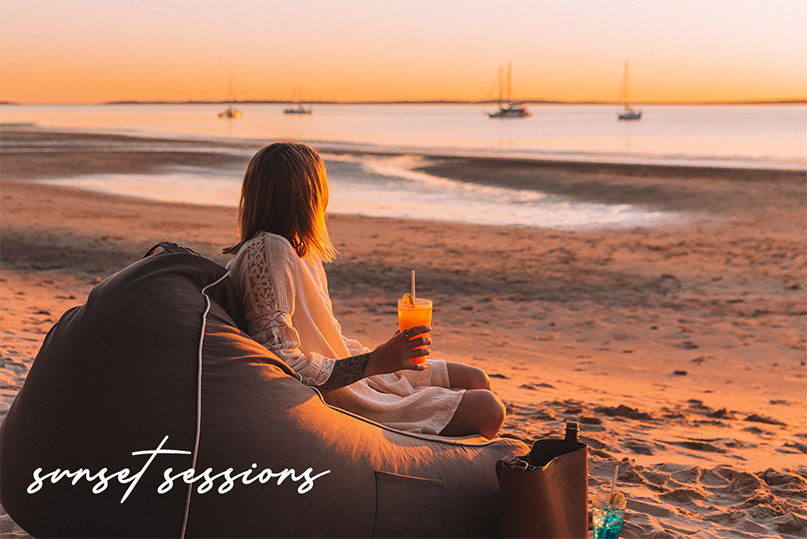 As a World Heritage-listed destination, we're all about that H2O and with our diverse range of natural waterways, we sure have it in spades…but should you choose to indulge in an island-inspired beverage, we've got the perfect place for you!
Settle in to one of the Sunset Bar's beach beanbags and prepare for the ultimate nature show. With the western beach bathed in a golden glow, there's no better place to soak up the spectacular surrounds, as the sun dips below the horizon across the Great Sandy Strait.

Looking for some more inspiration for your island itinerary?? Download a copy of our Fraser Island Magazine! Or check out our Instagram page, for a daily glimpse into life in paradise!