Join your friends and colleagues on a virtual trip to Fraser Island!
 
While we all continue to navigate this virtual space, why not take your Zoom call to the world's largest sand island!

Whether you're in a business meeting or catching up with friends and family, we're connecting you to your favourite piece of island paradise.

Some of our own team recently had a virtual chat with the Ch 7 Sunrise breakfast crew from Fraser Island, and now you can too! Transport yourself to our little piece of paradise and let's keep the island vibes alive!

HOW TO CHANGE YOUR ZOOM BACKGROUND 

1. Download your favourite Fraser Island image from the gallery below, by clicking the download button.

2. Create a Zoom account and log in. Open your  'Account Settings' and select 'Virtual Background'. 

3. Select the plus '+' sign to upload the photo of your choice - and you're all set! 

Discover a little about each of our Fraser Island virtual locations...
Lake McKenzie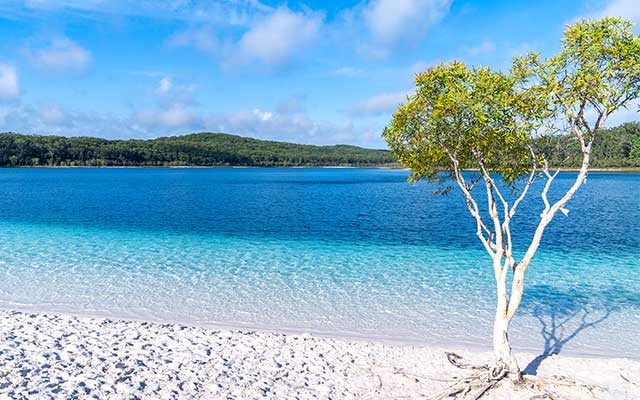 Renowned for her alluring turquoise hues, this freshwater lake is one of Fraser Island's most recognised and bucket-list worthy spots!

Encircled by pristine white silica sand, and paperbark trees dotted along the shore, this natural wonder is the epitome of island paradise! 


Sunrise on the east coast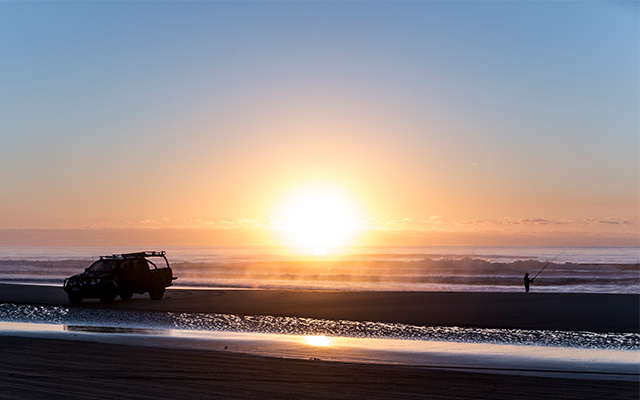 Set your alarms early, get those first calls of the day done and dusted, and watch your productivity soar. There's nothing better than an early morning, watching the sun rise over the horizon for another day in paradise.

When planning a trip to Fraser Island, take a look at Eurong Beach Resort – situated right on 75 Mile Beach, it's an ideal beachfront base to kick back, relax and cruise the east coast with your own 4WD. With over 1,200 kilometres of sand tracks right on your doorstep, there's adventures abound!
 


Fraser Island Dingo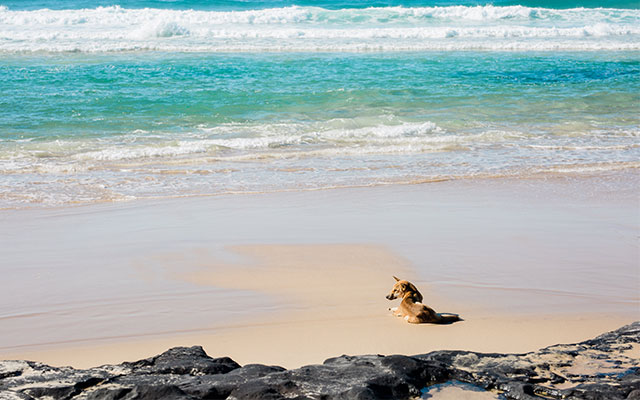 Whilst the world's largest sand island is home to an array of unique wildlife, the Fraser Island dingo is by far the most iconic. As the purest strain of this canine species in Australia, these furry creatures are often spotted scampering amongst the sea grass, along the eastern beach.

Did you know - Dingoes typically have one litter of 3-4 pups per year, around the months of August to September!
 


75 Mile Beach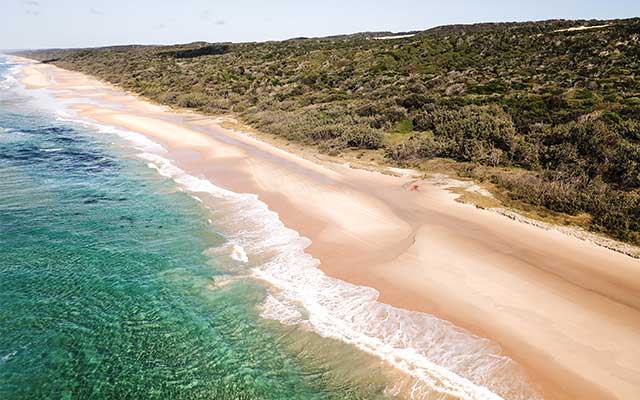 This golden expanse of coastline stretches for (you guessed it), 75 miles, or 120 kilometres. Not only is this spectacular beach an official Australian National highway, it's also a landing strip for light aircraft - one of just two places in the world where landing on a beach is permitted.

When exploring Fraser Island by 4WD, this beautiful beach will connect you to a range of sights, including Eli Creek, the Maheno Shipwreck and the Champagne Pools!
Central Station rainforest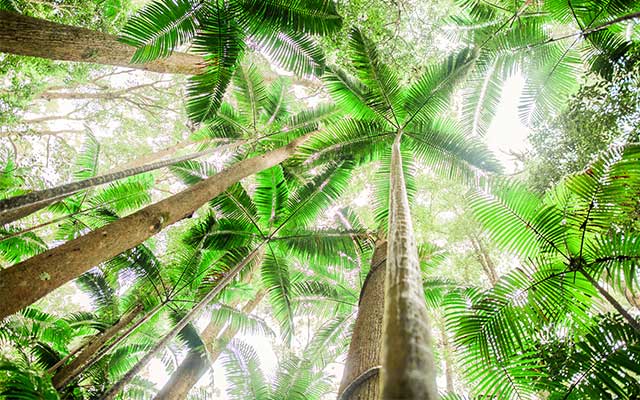 The beauty of the rainforest never ceases to amaze us! From some of the largest king ferns in the world, centuries-old satinay trees and a captivating canopy of towering palms, it's a tranquil haven to explore. 
Forever flourishing, Central Station truly is the heart of Fraser Island. 



Wonders of the Wallum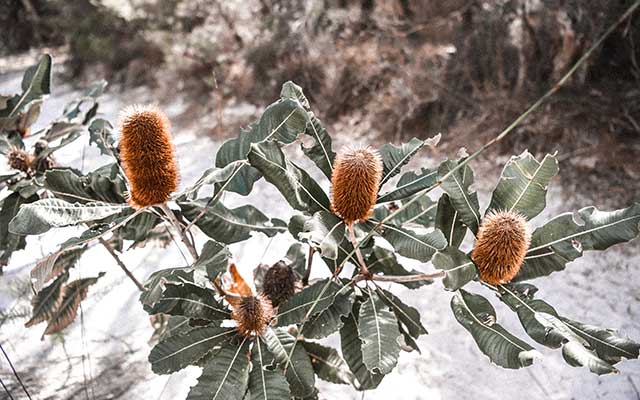 These stunning native plants, known as the Swamp or Broad-leafed Banksia are found in Kingfisher Bay Resort's wallum habitat – a wetland area of carefully designed boardwalks, crafted during the resort's construction, to enhance biodiversity within the resort grounds.

The wallum is home to an array of unique flora and fauna, including a range of coastal and migratory bird species. These walkways are a perfect opportunity for guests to connect with the natural surrounds, including daily guided walks led by our Eco Ranger team.



Lake Wabby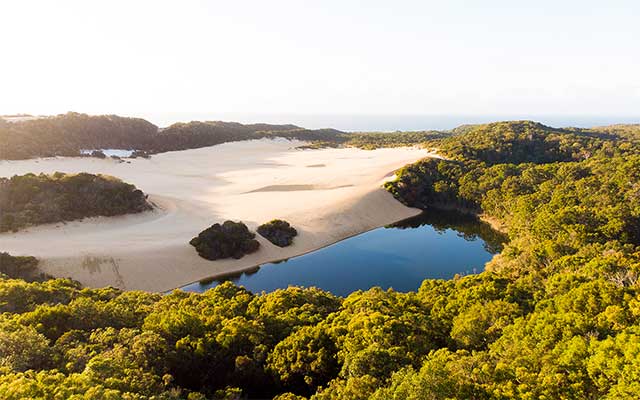 Fraser Island is regarded for its diverse landscapes, and this freshwater lake sure likes to stand out from the rest. With glimmering emerald hues, this hidden oasis is a stark contrast to the crystal blue depths we're used to, but it is equally spectacular.

This view is from the Lake Wabby lookout, accessed via the inland tracks, however you can also make the trek on foot from the eastern beach. It takes approximately 40 minutes, but we guarantee the adventure is worth every step!



Champagne Pools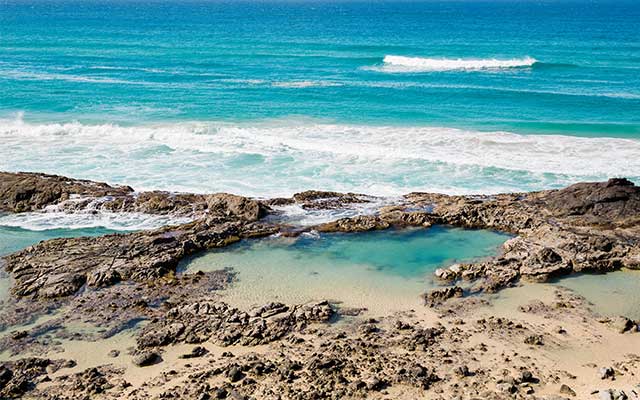 Champagne, anyone??

Located along the north-eastern coast of Fraser Island, this is one of the destination's most unique swimming spots. A natural formation of volcanic rock, the waves crash and bubble into these aptly named pools, for the ultimate island experience. Cheers to that! 


Sunset along the western beach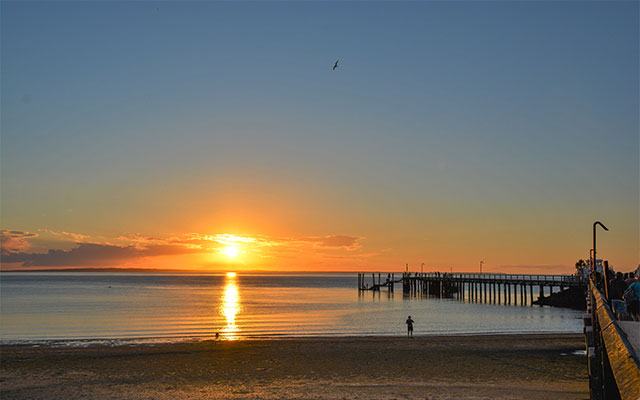 For your next round of virtual drinks, why not perch yourself on the deck at Kingfisher Bay Resort's famed Sunset Bar and say cheers to that island glow.

As the best place to catch a Fraser Island sunset, this backdrop will be sure to impress and spark those island vibes, for when travel has safely resumed. Our team will be sure to save you a seat, or even one of our beach beanbags down on the sand!
Eli Creek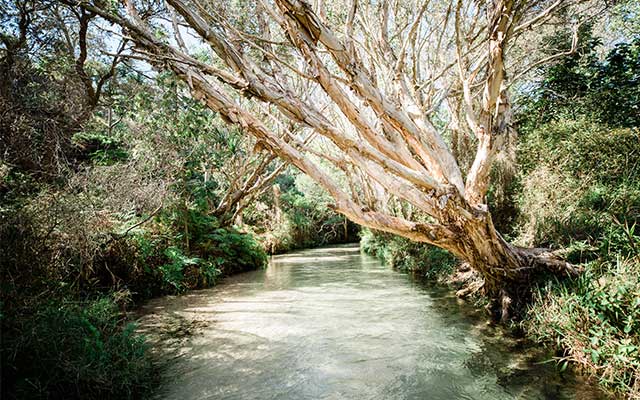 This idyllic waterway is one of just two permitted swimming spots along the eastern coast. With over 4 million litres of glistening freshwater flowing from Eli Creek into the ocean every hour, this gentle current is perfect for floating along the weaving banks, under the dappled shade of the paperbark and pandanus trees.
The remote western coast 



Just when you thought Fraser Island couldn't get any more beautiful, let us introduce you to the remote north western coast! With some of the most captivatingly clear waters and a brilliant expanse of white beaches, these untouched natural landscapes are truly mesmerising. 
Led by our expert skipper and resort ranger, Sea Explorer offers immersive eco cruises along this stunning stretch of coastline, spotting wondrous marine life along the way. 
Wanting to explore a little longer? For a 360 virtual tour of Fraser Island, click here - discover the remarkable rainforest, Lake McKenzie, and more! 
Are you seeking some more inspiration for your island itinerary?? Download a copy of our Fraser Island Magazine! Or check out our Instagram page, for a daily glimpse into life in paradise!